Renovation and Romance
Everyone knows renovating a home can be a strain on any relationship.  But according to this article in the New York Times, it helps if you remodel in the early months of a romance!
The article discusses science writer Hannah Holmes and a renovation project she and her new husband undertook, shortly after their marriage.  The oxytocin and dopamine (chemicals associated with feelings of romantic love) swirling around their brains made the whole project go smoother.
Of course, none of this helps those of us who have to renovate after a relationship of many years.  Once the 'ga-ga' phase has passed – well, we just have to try to keep in mind the stronger bonds of love and trust that come after many years together.  (And try to ignore the snoring and the slurping while eating and the taking too long while shopping and the Sundays wasted on TV football and…  you get the idea!)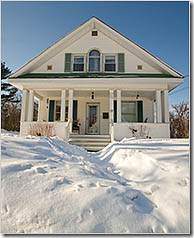 Tags: renovation and romance