You can use a program like Photoshop to try out different combinations for your house.  I wanted to see how a specific color would look and how it would look covering up the bricks.  (I feel like the bricks give it an old house look and I want it to look more updated.)
My son held a sample up to the house.  (Please note that my camera distorted the color a bit.  It was a cloudy day.)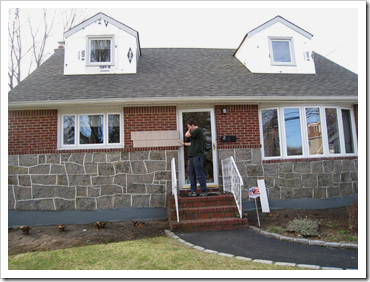 I used the clone stamp in Photoshop to paint the siding on the house where I wanted to side it.  Eventually, once I added large swathes of siding on the house, I copied and pasted bigger pieces.  I added the cornices above the upper windows from another photo I had of another house.  I also painted the foundation a different color using the paint tools.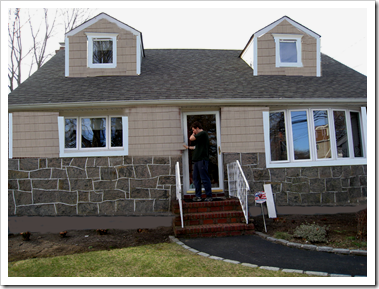 It's not a perfect representation, but in an hour, I was able to come up with this photo to get a general idea of how the house will look covering the bricks and using this color siding.
UPDATE
Several people have asked if we can perform a service like this for them.  The answer is yes!  If you're interested in seeing a preview of major work on your house before you commit, please write us at info@shortandlongofit.com .  We'll send you information as to pricing and procedure.  [For a project like the one above, we'll charge $100 (via Paypal).  You'll need to send us a photo of your house and a photo of a sample of the siding.  But please write first, since available slots are limited.]
Average Rating:
4.6
out of
5
based on
241
user reviews.