Dishwashers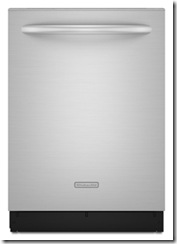 Unfortunately, I'm in the process of looking for a new dishwasher.  My current one is only 5 years old.  It's an Amana and it's very loud.  We have to leave the room for the first hour it's running.  The bottom rack wore down in places and the plastic came off.  Now the metal underneath is exposed and has turned rusty.  It leaves rust marks on my white dishes. 
I had a repair guy come in.  It cost $125 for him to just walk in the door.  He said the cost of just the parts to fix the machine would be a couple hundred dollars.  He thinks that at this point we should just buy a new one. 
Needless to say, I won't be buying another Amana dishwasher.  The repair guy recommended Bosch.  He said he rarely has to repair them.  That even the cheapest Bosch would be better than most other brands.  I found this view was supported online: "In recent appliance-reliability surveys, Bosch dishwashers are the quietest and most reliable dishwashers overall."
I looked at the Bosch dishwashers in the store and noticed that that racks have very small slots for plates and bowls.  The guy in the store measured them and they were only an inch apart.  My dishes are deep and won't fit into the Bosch machines. 
I'm on to researching other machines.  The KitchenAid dishwasher looked good.  It was  stainless steel inside (as opposed to plastic) and the slots for dishes were wider.  So,  next I'll research KitchenAid and some other brands.
Tags: Dishwashers