Just as in the kitchen, the sink will get more use than anything else in the bathroom. Your options are nearly limitless. Start by deciding whether you want a freestanding or vanity-mounted sink.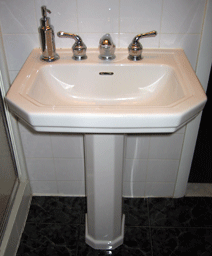 A freestanding sink will be mounted on the wall and exposed to view, either with or without a pedestal for extra support. On the downside, there will be no extra storage space under the sink. But a freestanding sink allows for a clean, open look, and can be an excellent choice for tight spaces. They can make a small space feel larger by exposing more of the floor and wall.
If you prefer a freestanding sink, but need a little space for personal items, choose a sink that has some built-in counter space or mount it on a small countertop attached to the wall. Also consider your other storage options in the bathroom. Will a shallow cabinet over the toilet bowl provide enough extra storage space to fill your needs? If there is still not enough storage you may want to consider a vanity-mounted sink.
A vanity-mounted sink will add not only storage space, but also endless design possibilities. You can choose a ready-made vanity, have one custom-made or retrofit a piece of furniture (antiques work well for this purpose).
There are several different mounting options for the sink. Self-rimming sinks sit on the countertop. Rimmed sinks sit just above and are joined to the counter by a metal rim. Under-mounted sinks sit below the counter, emphasizing the countertop more than the sink. Under-mounted is a great choice for easy clean-up, but be sure to have a counter that is waterproof all the way through, such as stone or solid-surface.
You can also buy sinks that are integrated into the countertop. They give a clean, smooth look, and are very easy to clean. They eliminate the need for caulking, which can get moldy over time. However, if one or the other gets damaged, you will have to replace the whole unit.
In recent years Vessel Sinks (the ones that look like a bowl on top of the countertop) have become increasingly popular and available. You can find anything from a plain, round, white bowl, to a freeform, hand-blown, colored glass vessel.
Vessel sinks sit atop the counter, level with the drain. Generally the sink is the focal point, and faucets are usually wall mounted, since there are no holes in the sink. There are also flush-mounted sinks, often tiled, where counter and sink meet flush.

Bathroom sinks come in many sizes and shapes – oval, round, square, rectangular and free-form – with lots of materials to choose from.
Ceramic Sinks are made of plain, or decorative, vitreous china. White, and many pastels shades, are very affordable. Ceramic sinks are durable, easy to clean, and there are many styles, shapes and colors to choose from. Most pedestal-style, ceramic sinks will be more expensive.
Pottery Sinks are made in limited batches or are custom made. They provide a unique design element. Although fairly durable, with too much wear and tear, pottery sinks can crack or chip.
Stainless Steel is usually associated with the kitchen, but can make an interesting statement in the bathroom as well, especially in more contemporary designs. Quality and cost will depend on gauge (smaller numbers are thicker and more expensive) and nickel content (which gives a smoother, shinier look). They are durable and easy to maintain. Better quality (18 gauge) ones will resist water spots and scratches, but they can be pricey. Thinner ones (22 gauge) may dent and show scratches easily.
Enameled Steel resembles cast iron, but is thinner and much lighter in weight. It is affordable and fairly easy to maintain, but the enamel finish can crack or chip easily.
Enameled Cast Iron is another option which gives a solid, traditional look. It's easy to clean, chip-resistant, and available in a wide range of colors. It is a very heavy material though, so make sure your countertop can support it. If you're doing it yourself have someone help you install it.
Cast Polymer is Cultured Marble, Granite or Onyx. It's made to replicate stone, but can be molded into different shapes for a themed décor. It's an affordable choice for people on a budget. Cultured marble sinks can be integrated into the countertop, thus eliminating the need for caulking. However, it often does not hold its initial shine well and the top coat can crack. It can also burn, so if you choose cast polymer, don't put hot hairdryers down on the countertop.
Cultured Marble is a nice mid-priced alternative. It generally costs a little more than a Laminate Countertop with a Self Rimming Sink. But you have to be careful with a laminate countertop in the bathroom. Over time it can warp and crumble from over-exposure to water.
Solid Surface Sinks (such as Corian®) are durable, stain resistant, and they're available in lots of colors. Pieces can be cut to make custom shapes and designs. For a seamless look the sink can be integrated into the countertop. However this material must be installed by licensed professional or any warrantee will be voided.
Other materials, though often very expensive, can be used to make a unique statement with your bathroom sink. Considerstone,such as Soapstone, Granite or Marble, or high-end metals, such as Brass, Copper, or even Gold-plate. Or perhaps the statement you want to make lies in a hand-blown Glass Bowl, layered with metals.
But for the more practical side of the bathroom sink, probably the best advice is to buy the biggest sink you can afford. Or, if space and budget allow, install two sinks side by side– especially if you have a big family. Keep in mind that the larger the sink the more versatile it will be. Consider how your family works – does everyone need to brush teeth at the same time every morning, or are there just one or two of you?
Remember to design for yourself and your family. Keep in mind that in order to have ample elbow room, it's a good idea to leave at least 15" from the center of your sink to the wall. If you have two sinks, you should have at least 30" between the centerline of each sink. That way you can both brush teeth without having to jockey for position.